Malone Kindergarten updated policy on procedures to prevent and control the Coronavirus
Preventing spread of infection
There is currently no vaccine to prevent COVID-19. The best way to prevent infection is to avoid being exposed to the virus.
There are general principles anyone can follow to help prevent the spread of respiratory viruses, including:
washing your hands often – with soap and water, or use alcohol sanitiser if handwashing facilities are not available.
covering your cough or sneeze with a tissue, then throwing the tissue in a bin.
staff, children, parents or visitors who display a fever, persistent cough or flu symptoms should stay at home for 7 days and should not attend the Kindergarten.
1. Hand hygiene
Children, pupils, students, staff and visitors should wash their hands:
before leaving home
on arrival at school
after using the toilet
after breaks and sporting activities
before food preparation
before eating any food, including snacks
before leaving school
Advice is to use an alcohol-based hand sanitiser that contains at least 60% alcohol if soap and water are not available and avoid touching your eyes, nose, and mouth with unwashed hands.
2. Catch it, bin it, kill it.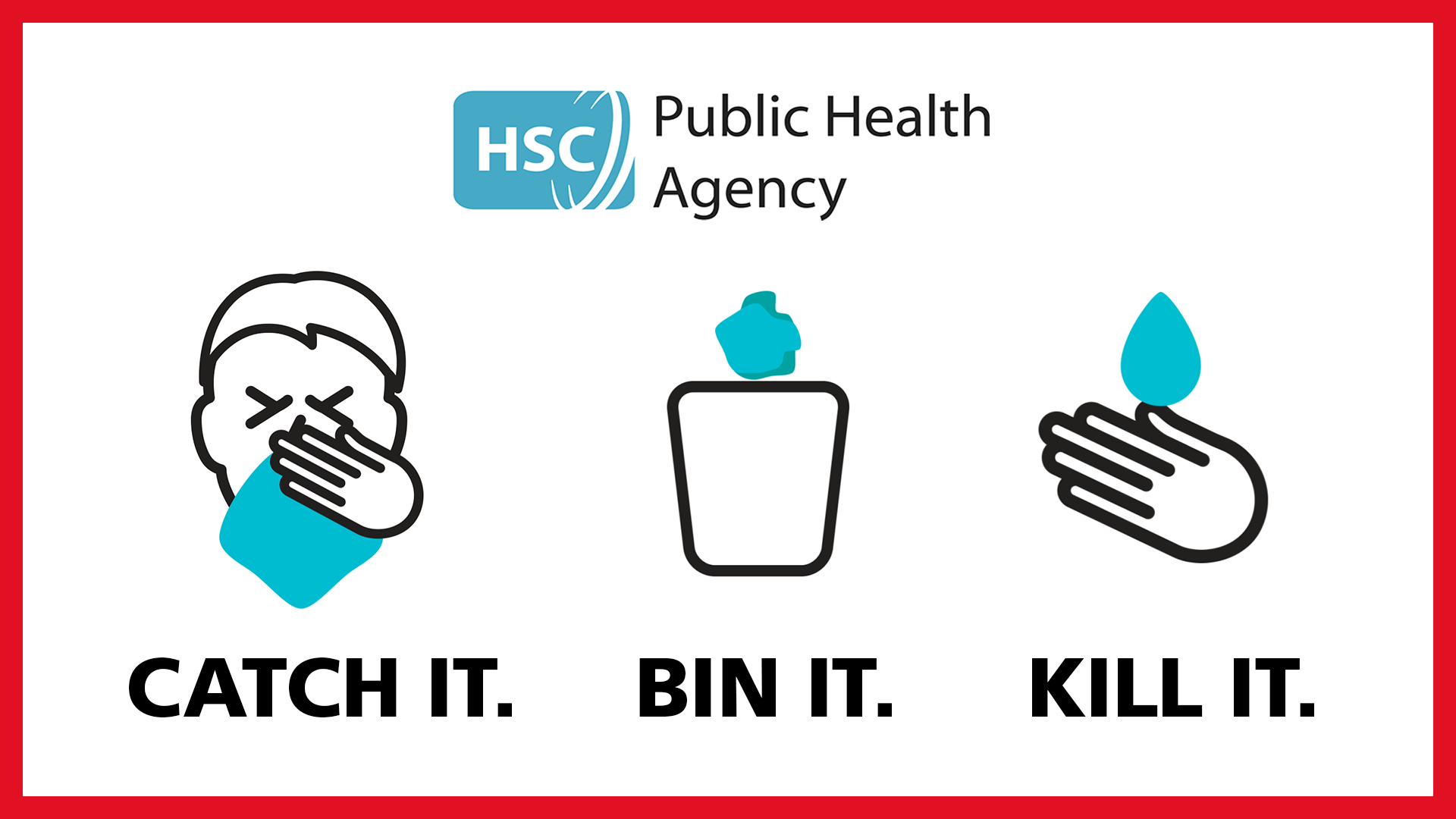 We would ask parents to support us to help children to blow their noses, catch coughs and sneezes in a tissue then bin it and thoroughly wash their hands. We have set up designated Hygiene Stations with mirrors for the children to use and dispose of tissues independently.
3. Exclusion due to illness
In the event of a child exhibiting any of the above symptoms, parents are asked that they do not attend and seek further medical advice as detailed below. At Malone Kindergarten we will be closely adhering to advice provided by the Public Health Agency and Education Authority regarding exclusion policy for prevention of spread of infection.
For any child exhibiting symptoms of a fever, persistent cough or flu-like symptoms, they should self-isolate by staying at home for 7 days.
Advice also applies to any staff member, visitor, parents, grandparent or friend who may be coming to the Kindergarten to collect your child.
In line with our exclusion policy, advice for other illnesses and infections states that the exclusion period should last until the child has been free of symptoms of fever, diarrhoea and/or vomiting for at least 48 hours, and has had at least one normal motion. If a child requires antibiotics they should remain absent for at least 48 hours of treatment.
Seeking further medical advice
If worried, please call NHS 111. Do not go directly to your GP, pharmacy or other healthcare environment.
see further information on the Public Health Agency website. The information on this link is updated on an ongoing basis, so should be checked regularly.
Call the GP or NHS 111, or 999 in an emergency (if they are seriously ill or injured or their life is at risk).